The Galaxy hoodie is becoming insanely popular, and here at PuzzleDude we understand why –  a stylish space hoodie or galaxy print sweater is the best way to show off your love for astronomy. There are a ton of different print styles out there, so in this best galaxy hoodie and sweater review we'll pick out the coolest ones to save you time! To make it onto our best galaxy sweater and hoodie list the sweaters are affordable, comfortable, and look out of this world.
Best Galaxy Hoodies: Our Picks
In this review of the best galaxy hoodies out there we'll be covering a variety of different designs, sweaters, sweatshirts, and hoodies so you can find the perfect one for you, or the astronomy lover in your life for a great gift.
SAYM Unisex Galaxy Print Hooded Sweatshirt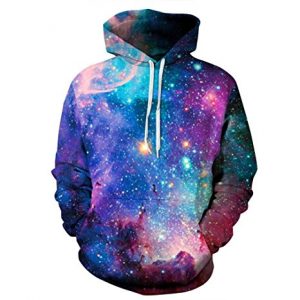 This is one of my favorite looking space hoodies on the list, so that's why it's up top! 80% polyester and 20% cotton is the perfect blend for comfort – machine or hand wash this sweet looking galaxy print hoodie with a front pocket.
(paid link)
Imilan Galaxy Cosmic Print Hoodie/Sweatshirt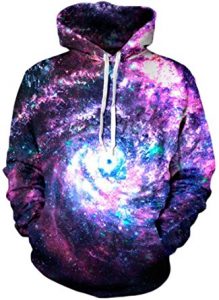 I recommend getting a size up in this hoodie due to sizing. This is another great looking space print hoodie with a sweet nebula forming and swirling in the middle. The super bright flares and dark areas make for a neat looking contrast.
(paid link)
Imilan Neon Galaxy Pullover Fleece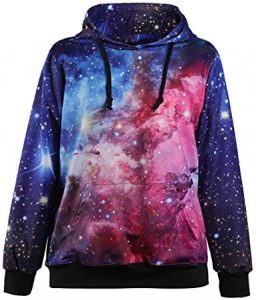 Fleece is such a nice material for a sweater, and with this neon galaxy design this sweatshirt is just a must have for galaxy lovers, and lovers of comfy clothes. This is one of the brighter designs featuring a mix of red and blue.
(paid link)
FLYCHEN Galaxy Pattern Hoodie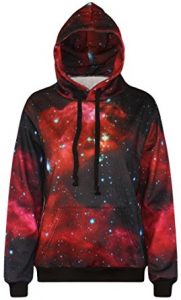 This all red galaxy print hoodie is the real deal. It's dark, it's shimmering, and it's ominous with its red streaks. One of the best red galaxy print hoodies on this list for sure.
(paid link)
Pandolah Light Blue Galaxy Print Sweater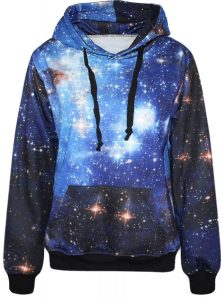 With a lot of different elements, this is a busy galaxy print sweater mainly featuring bright stars and blue streaks. Blue is one of my favorite colors so I can definitely recommend this one to you. One of the best galaxy hoodies if you like blue (like me).
(paid link)
Ayliss Unisex Galaxy Stars Astronomy Print Hooded Sweater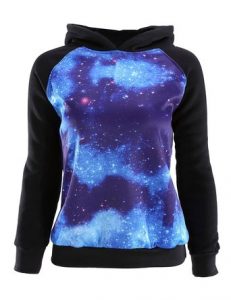 This is a really unique looking one compared to the rest – it has a bright blue on dark blue galaxy print, and black hood and arms. This is less 'wild' than the other designs but certainly still lets you sport the galaxy print – just slightly less obnoxiously. Another great galaxy print hoodie with a twist that some may appreciate.
(paid link)
Cutiefox 3D Digital Printed Galaxy Hoodie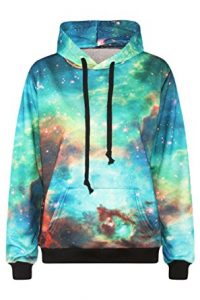 Here's a super super bright galaxy or astronomy printed hoodie that I know you'll love. It's the brightest, greenest, and one of the greatest hoodies on this list. It has a dark drawstring and cuffs as well.
(paid link)
Pandolah Blue Galaxy Print Sweater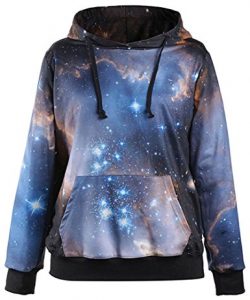 This Pandolah sweater has a sweet red/blueish design. It's got a surge of bright stars in the middle but it's not a super flashy sweater in terms of brightness like the previous one.
(paid link)
Pandolah Red Galaxy Print Sweater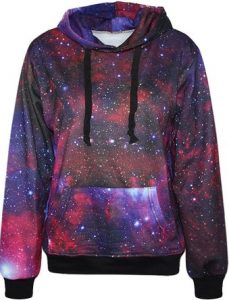 Here's another Pandolah design with a really red design and some blue undertones. This galaxy print is consistent and not overly flashy with stars or novas – a nice red and blueish hoodie to add to your collection.
(paid link)
Unisex Zip Up Galaxy Print Hoodie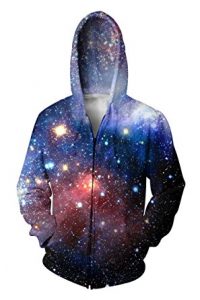 This is my favorite and in my opinion the best galaxy hoodie on the list – it's a full print zip which is my favorite style. Ohter than that it has a bunch of bright stars, and a gradient from red to blue which is awesome looking.
(paid link)
Best Galaxy Hoodies: Wrap Up
With a ton of different types of designs out there, it's not always easy to pick the best galaxy hoodie for you, or if you're shopping for someone. My recommendation is to pick one with a color theme that you like, and also a sweater type you like so that you'll actually wear it. Hopefully our list of the best galaxy hoodies and space hoodies has helped you pick one out :)!