If you want to know what is the best Pyraminx on the market right now then you probably know what it is, but if not then I'll do a quick introduction for this fun and exciting twisty puzzle.
The Pyraminx is a tetrahedron puzzle similar to the standard 3×3 Rubik's cube. It was patented by the same guy who brought you the Megaminx, and Skewb, Uwe Mèffert in 1981.
He first thought of the idea in 1970 and didn't capitalize on the unique puzzle until 1981 when it entered production in Hong Kong. Uwe credits Erno's Rubik's invention for the birth of his Pyraminx. You're here to find out what the best Pyraminx is, so let's get into the reviews. Instead of listing every single Pyraminx available I've narrowed it down to a few great options that should suit a wide variety of puzzler's needs.
Best Pyraminx Reviews: Table Format
| Pyraminx | The Cube | Our Rating | PuzzleDude's Review | Get it here |
| --- | --- | --- | --- | --- |
| MoYu Pyraminx | | (4.5 / 5) | Best Pyraminx!! | |
| Dayan Pyraminx | | (4 / 5) | Solid, smooth, fast Pyraminx option | |
| ShengShou Pyraminx | | (3.5 / 5) | Best budget Pyraminx | |
Best Pyraminx – Individual Reviews
MoYu Pyraminx Review (4.5 / 5)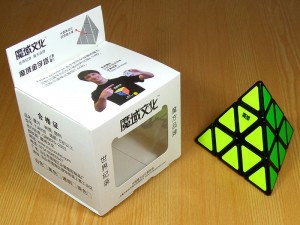 In my opinion, the MoYu Pyraminx is the best overall option out there right now. It's a top tier speed cube and the price at around $8-10 is more than reasonable, and not that much higher than the budget Shengshou. The MoYu has superior corner cutting, world-record performance, and it's really smooth to use and solve no matter what your pace.
10x10x10cm Pyraminx
Available in white and black stickered
Great quality cube with smooth turning and superior corner cutting
Puzzle Dude's rating (4.5 / 5) – best Pyraminx speed cube!
Dayan Pyraminx (4 / 5)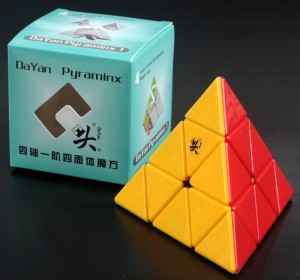 Dayan is a house-hold standard when it comes to speed cubing. A recent survey showed that the Dayan 3×3 was the 2nd most owned cube in the /r/cubers subreddit. I know that this is a Pyraminx and that's a 3×3 but extrapolating this result makes sense because you know you're getting the same high-quality construction and usability that Dayan offers. This cube is available in stickerless which I know appeals to a lot of cubers and regular puzzlers, as it does to me as well. This cube is available for around $10 and has an appealing color scheme and stickerless option. The only reason I would get the Dayan Pyraminx over the MoYu is if you're partial to the brand or like the colors.
No stickers makes it extra durable
Ultra fast cube, world record capable
Great corner cutting
Puzzle Dude's rating (4 / 5)
ShengShou Pyraminx (3.5 / 5)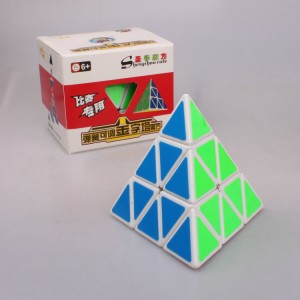 ShengShou does make good quality puzzles, but they're definitely the budget option as the price dictates. There are ShengShou puzzles being used to set world records so they don't lack performance but coming in at around $3-5 it's just a fraction of the cost of other Pyraminx brands. With the same dimensions as the other puzzles, the ShengShou handles well and is very speedy. It has a more clacky feel in comparison to the other options so that may appeal to you.
Standard ShengShou quality
Available in white or black stickered
Easy to handle, fast speeds, good corner cutting
Puzzle Dude's rating (4 / 5) – best budget Pyraminx speed cube!
QiYi Pyraminx (3.5 / 5)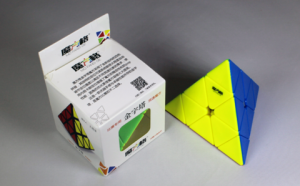 The QiYi is the new kid on the block when it comes to Pyraminx puzzles. This is the most expensive puzzle on the list as it boasts the smoothest turning and best corner cutting with a special bevel on the pieces to allow for superior corner cutting. I still think the MoYu is better because it has great bearings and corner cutting but if you're really concerned about cutting and popping then go with the QiYi Pyraminx. I've also added it to hist list because it has an appealing bright color scheme in comparison to the other puzzles on the list. The price is high, if it wasn't as high I proabably would've given it a slightly higher rating than the MoYu.
Boasts the best turning and corner cutting with special beveled edges
Available in a bright stickerless format
Unique bevel sets it apart from other Pyraminx puzzles
Puzzle Dude's rating (4 / 5)
How to pick the best Pyraminx for you!
So you've read my descriptions and comments on what I think are the four best Pyraminx puzzles on the market, but maybe you're not sure which one is for you. You could also be buying one as a gift for someone else and require a bit more guidance than has been revealed so far so here we go.
If you're new to Pyraminx, puzzling, or speed cubing and want to try the Pyraminx I would try the ShengShou. Overall it's a great and fast cube and it will barely sting your wallet just costing a few bucks. Once you break in the puzzle and set it how you like it – it's an awesome Pyraminx.
If you're an experienced cuber looking to get a top-tier Pyraminx then I would go with the MoYu. If you specifically like the Dayan brand then they're closer enough that they can both be top tier cubes – the cube doesn't make the cuber!
If you have a Pyraminx or a lot of other cubes already and want to try out a "superior" Pyraminx with a unique design, then I would try the QiYi Pyraminx. Otherwise unless you specifically like the color scheme of the QiYi then I would go with a MoYu or Dayan.
Pyraminx Resources
After we get our Pyraminx of course we want to solve it, here are the resources I used to learn algorithms and how to solve my Pyraminx. It's not a super difficult twisty puzzle if you have some experience, and if not you can definitely figure it out with a bit of time.
Pyraminx Cool Facts
We can't finish off this article without some cool facts on the Pyraminx now can we?
The first official Pyraminx competition was organized in 2003 – American Andy Bellenir won by solving it in 14.09 seconds.
The max number of twists required to solve the Pyraminx is 11
There are 933,120 different positions that the puzzle can be in – this makes it very computer solvable!
The current world record single solve of the Pyraminx is 1.36 seconds set by Drew Brads in 2015. The best average is also held by the same guy at 2.52 seconds.
Higher order variations of the puzzle are the Professor Pyraminx, and the Tetraminx which is basically a Pyraminx without tips.
Wrap up
If you got this far, thanks for reading! I put together this list of the best Pyraminx puzzles available because I saw that there was a lack of reviews. Within these four Pyraminx listed here I'm sure you can find the right puzzle for you, from budget to top-tier speed cube options there's something for everyone.
Puzzle on!