If you're interested in toying with a Megaminx for the first time, or have a bit of experience and are looking to hit your PB on a solve with a faster turning puzzle, check this list of the best megaminx cubes.
Best Megaminx Reviews
The Megaminx is a twisty puzzle similar to a Rubik's cube that has 12 different faces and 50 movable pieces (known as a dodecahedron), so prepare for a challenge as it can take quite a bit longer to solve.
This puzzle is also known as the Magic Dodecahedron, the Hungarian Supernova, or can be called a Megaminx cube.
What is the best Megaminx?
If you're an experienced speed cuber, or just looking for a new puzzle to test your mind with then the Megaminx is an excellent option. There's widespread information available online to help you solve it, and it's a longer lasting solve than a regular Rubik's or smaller so it can keep you entertained for longer. So what is the best Megaminx?
This isn't a super straightforward question as there are a few things to consider when picking the right Megaminx for you. Here's what you should consider when picking one:
Budget – Not all Megaminx are made equally, choosing one based on your budget is valid and there are options for both ends of the spectrum.
Speed! – Just like not every Megaminx is made equally, not every cuber is equal either. Some cubers are faster than others, and some may take their time solving the Megaminx. Some puzzles turn faster than others so this is another important option to consider.
Stickered or stickerless – A common question when it comes to any type of twisty puzzle… to sticker or not to sticker? That is the question. Some like the look of stickered puzzles and also the puzzles offer a white or black background which can have a cool style. Others like the stickerless appeal because you never have to resticker or worry about it getting dirty or damaged.
Brand – Hello brand loyalty! If you're a cuber with brand preferences already, this may outright answer your question for you. You'll probably see some familiar brands in this list so you know what to expect if you've tried out their other cubes.
So now that we have a good idea of some of the options to be aware of when looking at a Megaminx, let's check out some of the more popular ones!
Megaminx Speed Cube Reviews
Shengshou Megaminx Review (3.5 / 5)

The Shengshou Megaminx is the most budget friendly option on the list, but that doesn't make it a bad cube. In fact the Shengshou is the first Megaminx I ever got and I still use it to this day. Shengshou cubes aren't expensive but they're solid to use after they're broken in and properly set up. Here's some more info about the Shengshou Megaminx:
Costs around $5 (Makes getting into a Megaminx pretty easy)
Available in white or black with stickers
Solid option for speed cubing/solving
Has good forward corner cutting and back cutting
Doesn't pop or lock
12 Color scheme
Puzzle Dude's rating (3.5 / 5) – Best budget Megaminx!
Dayan Megaminx Review (4.5 / 5)
If you're a cuber, I'm sure you've heard of Dayan before as their Zhanchi stickerless cube has been one of the most popular options for a long time. When you buy Dayan, you know what you're getting and this cube is no exception. If you like stickerless, this is a great middle-of-the-pack price cube with a great color scheme. This Megaminx has a ridged option that makes holding, spinning, and rotating the cube a breeze without obstructing your control. Try it you'll like it! I think that this is the best overall Megaminx with it's control, corner cutting, and the ridge option
Costs $10-15 (Average price for a Megaminx)
Available in stickerless, or stickerless with ridges, and black stickered with ridges
Great corner cutting
Doesn't pop or lock
Ridge option is really cool/unique
12 Color scheme
Puzzle Dude's rating (4.5 / 5) – Best overall Megaminx!!
YJ Moyu Yuhu Megaminx (4.5 / 5)
This right here is the fastest Megaminx on the list, and in my opinion the best Megaminx for the speed cuber out there. It has the best corner cutting, fastest spinning, and it's the easiest to break in and set up. I also think that it has the most appealing color scheme out of them all if that's your thing.
Costs around $15
Available in stickerless, black stickered, and white stickered
Great looking 12 color scheme, colors are easily identifiable
Best corner cutting, and speed out of the box
Never locks or pops
Puzzle Dude's rating (4.5 / 5) – Best Megaminx speed cube !!
Other Megaminx Options
There are other Megaminx out there, but I don't like to list them off for no apparent reason. I believe that you can find the best Megaminx for you within this list of three with all of their various options. Really it boils down to:

Are you on a budget? Get the Shengshou. You have black or white stickered options here.
If you're not on a budget, are you a speed cuber? If so you can choose between the Dayan or the Moyu, I think that the Moyu is the fastest cube but the Dayan could make you faster with superior control by the ridges.
If you're a beginner and not on a budget, I would get the Dayan ridged version as it offers the best control and you won't out-solve the speed for a while (if ever).
How to Solve a Megaminx
If you've never touched a Megaminx before it's a good idea to move it around on your own for awhile without looking up any algorithms. This gives your mind a chance to grasp the Megaminx solution on its own — it is difficult but possible to solve without looking up how to do it!
But if you've already exhausted yourself trying to figure it out and are ready for some help, here are some youtube guides on how to solve a Megaminx depending on your current skill level:
Cool Megaminx Facts
You've made it this far! Here are some cool Megaminx facts you might not know, I certainly didn't know them before researching.
It was designed by Uwe Mèffert. He also designed the Skewb.
There are two options of the Megaminx, 6 color or 12 color. The 12 color is preferred due to less chance for a parity in the solution (otherwise identical pieces in the wrong spot).
The number of combinations of this puzzle is…
100 669 616 553 523 347 122 516 032 313 645 505 168 688 116 411 019 768 627 200 000 000 000
Roughly 101 unvigintillion, whatever that means.
The current Megaminx world record solve is in 29.93 seconds by Juan Pablo Huanqui of Peru in the LatAm Tour – Santiago 2017 competition.
The world record for 5 average solve is 35.15s set by Juan Pablo Huanqui in the same competition as well.
Megaminx Variations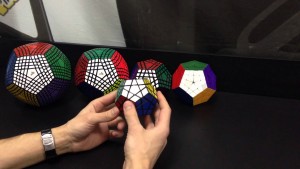 Just like the Rubik's cube (3x3x3) has variations like the 4x4x4, 5x5x5, 6x6x6 etc. there are Megaminx variations. The Megaminx is the base size with additional layers, here are the others:
Kilominx (2 different layers)
Master Kilominx (4)
Gigaminx (5)
Teraminx (7)
Petaminx (9)
Zetaminx (13)
Yottaminx (15) – this thing costs like $4000!
Anywho fellow Puzzlers, I hope you enjoyed reading this guide to getting the best Megaminx for you as much as I enjoyed writing it. The Megaminx really is a great puzzle that you can get for not much more than a regular 3×3 cube so snatch it up and have some fun!
Share your favorite Megaminx below 🙂