Monster High is a marketing dream. When Mattel created the franchise in July 2010 they must have had no idea just how popular it would become. In this article we'll go over the top 20 best new Monster High dolls including some of our personal favorites. We'll cover more on the history of the dolls, but for now let's get into the list!
Top 20 Best New Monster High Dolls
Let's take a look at what the best new Monster High dolls have to offer in 2016. We've put together a list of our favorites, explaining why each entry is a great purchase. Any doll we recommend is sure to make your child happy.
1. Boo York City Schemes Catty Noir Doll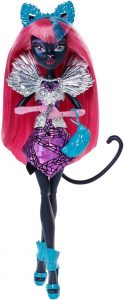 (paid link)
As the Monster High ghouls head to Boo York City to prepare for their first musical "Boo York, Boo York!" there is plenty of drama on the way. Catty Noir, daughter of the Werecats, will be battling with her nemesis Nefera de Nile, as they prepare to witness the passing of the Crystal Comet.
Dressed in purple, black, and silver, Catty comes with a bright blue handbag and shoes. Her finger-less pink gloves match her equally pink hair in an exquisite and vibrant style. The silver bodice finishes off the look fantastically well. The doll also comes with a silver stand and signature hairbrush.
A perfectly sculpted product that will surely steal the show. A collector's item if ever there was one – one of the best new Monster High dolls for sure with a high price tag!
2. Monster High Haunted Student Spirits Kiyomi Haunterly Doll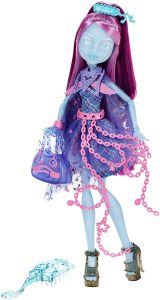 (paid link)
When things turn spooky in the Monster High Haunted movie, the ghouls rally round, and make some new friends to try and save Spectra Vondergeist from a life in chains. Kiyomi Haunterly, one of these new friends, is the daughter of Noppera Bo, also known as the faceless ghost.
Styled in a fashionable purple outfit, with pinks chains, and a purple handbag to top off the look, Kiyomi Haunterly has a very different look from your usual Monster High doll. Her facial features are painted in silver, and can only be seen close up. She comes with a blue hair-clip which can be used together with the hairbrush to style her hair in different ways.
The stand also fits in a way to make it appear as if she is floating; something a little different.
3. Draculaura Collector Doll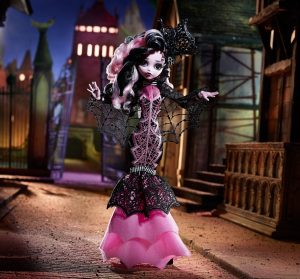 (paid link)
Draculaura is monster royalty. This fan favorite stands out in her Victorian outfit, with a mix of pink and black through the lacy style. The daughter of Dracula wears a bat-wing inspired cape across her shoulders, complemented by a lace top hat. The pink and black umbrella can be opened and closed, finishing off a real flashy look.
Standing tall at 15.2 inches, Draculaura is taller than other Monster High dolls. With rooted eyelashes, and a glazed eye finish, fans will love this 1600-year old collectable vamp. Extra articulation means this doll can hold many more poses than usual; collectors will love this one. The stunning box completes a perfect product for your display.
4. Monster High Shriekwrecked Nautical Ghouls Rochelle Goyle Doll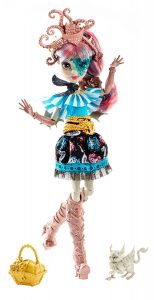 (paid link)
Rochelle Goyle returns in a Shriekwrecked style. This daughter of a gargoyle looks every bit a treasure, in an amazingly detailed outfit. Dressed in a nautical theme, this doll looks positively swashbuckling. With her blue ruffled top and black layered skirt, she looks absolutely gore-geous.
The headpiece is octopus-inspired, with a pirate ship inset and a golden rope. Complemented by a golden purse in the style of a treasure chest, this is a sea-sational looking doll, sure to be making waves across the high seas.
5. Frights. Camera. Action! Elissabat Doll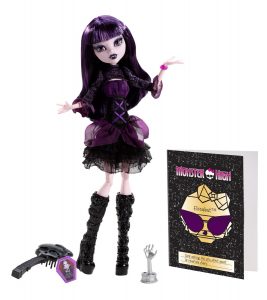 (paid link)
This star of the silver scream is a truly enchanting actress. One of the most popular new additions to the list of ghouls, Elissabat doll has a freaky fabulous style. Her corset type dress is captivating, with a hem of ruffled layers to go with a lace up bodice and sleek high neck.
Knee high black boots and a pink bangle on her slender arm finish the look marvelously. Elissabat doll also comes with a signature-style hair brush, a silver hand trophy, and a diary which would make the tabloids run for cover. The included doll stand is perfect for displaying in a variety of poses.
6. Freaky Fusion Avea Trotter Doll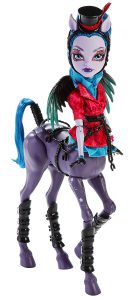 (paid link)
Avea Trotter is a fusion between a harpy and a centaur, but still 100% monster. Wearing a bright blood red satin jacket over a blue ruffled shirt, her green and black wings are showcased perfectly. A black belt doubles as a part of the bridle and reins, complementing the four black leg warmers.
The accessories are to-die-for with this collector's item. The black top hat fits over her blue hairpiece, while her blue tail is adorned with a black band, giving her that little extra fright! Unlike most Monster High dolls, Avea Trotter can stand on her own without any assistance. This two-in-one character comes with the usual hairbrush and a diary.
7. Boo York Frightseers Clawdeen Wolf Doll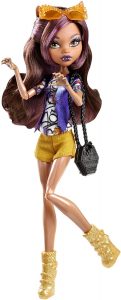 (paid link)
On her way to Boo York with Draculaura and Operatta to perform a monsterrific musical, Clawdeen Wolf is planning to see the frights in killer urban style. This daughter of a werewolf is dressed to impress, in her own unique way. Her golden boots match her short pants, contrasting nicely with her black handbag, showing off a chain style strap.
Her fashionable orange sunglasses set off her long brown flowing locks in a way only a true movie star can carry off. Her wolf-ears protruding from the top of her head give her an individual look that any child will love. Clawdeen Wolf has real star quality.
8.Boo York Ghoulfriends Mouscedes King Doll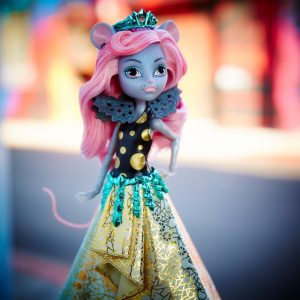 (paid link)
Another ghoul on her way to Boo York City, to witness the passing of the Crystal Comet. Mouscedes King is ready to do battle, in a fashion extravaganza like we have never witnessed before. The daughter of the mighty rat king looks every inch a princess, with her black bodice decorated with golden polka dots. Her gold foil tapered skirt and blue tiara are set off monsterrifically by her stylish pink hair. This is the fiercest fashion statement Boo York is ever likely to have seen. Mouscedes King looks out of this world with her curly pink tail and cute mousey ears. Use the included hairbrush let your imagination run wild with so many possibilities. One of the coolest looking dolls – one of my top picks for the best new Monster High Dolls hall of beauty.
9. Freak du Chic Gooliope Jellington Doll

(paid link)
This imposing 17 inches tall monster, stands about 4 inches taller than your average Monster High doll. Gooliope Jellington is a freaky-fabulous specimen newly added to the Freak du Chic range. With her freaky hair and over the top fashion sense, she is the go-to-girl for tips on dressing up. An orphan taken in by the circus, she still steals the show with her two-tone pink and yellow hair. A black and white belt brings the whole look together; topped off with pink high heel shoes.
The Freak du Chic line is a celebration of this year's Monster High annual dance; the ultimate skel-ebration of monster mania!
10. Frights. Camera. Action Viperine Gorgon Doll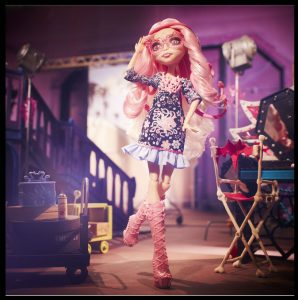 (paid link)
This girlie gorgon girl from Barcelgroana is the number one make-up girl in Hauntlywood. Giving monster makeovers with her colourful palette and make-up brush, she can bring out the most unnatural beauty from her subjects. Viperine Gorgon doll comes with a stone-cool blue make-up box to store the palette and brush; this also doubles up as a spooktacular handbag.
The stunning outfit is made up of a boho chic dress with flowery print, and knee high pink platform boots decorated with snakes around the top. Pink tinted sunglasses and a reptilian necklace are the finishing touch to an amazing style. Young girls will enjoy recreating scenes from the series, or even making up their own. The doll comes with the usual signature-style brush, a diary, and a stand.
11. Haunted Student Spirits River Styxx Doll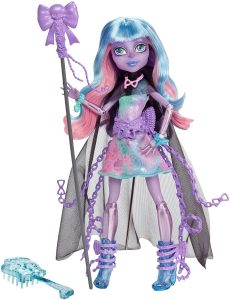 (paid link)
River Styxx is the daughter of the Grim Reaper. One of a quartet who are on a mission to save Spectra Vondergeist from a life in chains. Teaming up with Porter Geiss, Vandala Doubloons, and Kiyomi Haunterly, River Styxx and her new friends will use their fatal flaws to rescue Spectra before it is too late.
In true spook-tactular style, she wears an iconic outfit. Her shimmery dress with shades of purple and blue gives her a haunting look that will make your hair stand on end. A purple belt with decorative chains give a creepy cool look, that complements her visible bones. The doll also comes with a stand which makes it appear as if she is floating.
12.Travel Scaris Rochelle Goyle Doll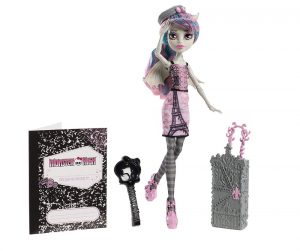 (paid link)
Monster High is now traveling high, as they hit the skies for the first time. Rochelle Goyle returns in a new style for a trip to her home town of Scaris. The jet setting ghouls will be displaying their funky fashion in typical style. The Travel Scaris dolls all come with a new outfit for their journey, a rolling suitcase, and a travel diary to keep track of all their exploits.
Rochelle Goyle is fitted out with a stunning pink dress, decorated with an Eiffel Tower logo. Complemented with striped grey leggings and pink shoes, she looks picture perfect. A stylish grey hat with her pink and blue hair is freakishly fabulous.
13. Jane Boolittle Doll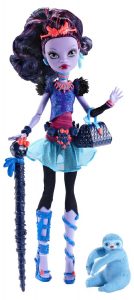 (paid link)
Jane Boolittle is the daughter of famous mad scientist Doctor Boolittle. Kept company by her loyal sidekick, a voodoo sloth called Needles, she is a keeper of secrets. Needles does double-duty as a backpack, taking care of all Jane's treasured mementos and secret stuff. Not comfortable in a crowd, Jane prefers to hang around these days in the Secret Creeper Crypt with the monster pets of her ghoul friends.
She comes with a beautiful handbag to match her blue and red outfit. A black walking stick doubles up as a pen to write entries in the diary; perfect for writing down all of your secrets. The whole fashion statement is finished off with a butterfly styled headband and some jewellery.
14. Haunted Student Spirits Vandala Doubloons Doll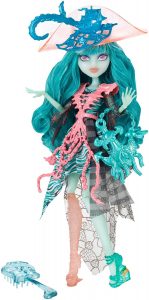 (paid link)
Vandala is another of the ghouls making friends to try and save Spectra Vondergeist from a life in chains. This daughter of a pirate ghost is dressed up just how you might expect; in a beautiful swashbuckling style. Sporting a stunning pirate's hat, an anchor shaped handbag, and a removable peg-leg, Vandala floats with such style and grace.
She wears a sea foam green dress with a lacy underskirt, matching her blue and white streaked hair perfectly. A skeletal red chain overlay is a cool accessory that tops off the look just fantastically. The doll stand makes it look as if Vandala is floating, with many different poses possible.
15. Great Scarrier Reef Glowsome Ghoulfish Toralei Doll
(paid link)
The best new Monster High dolls for 2016 are the sea creatures which swim around the Great Scarrier Reef. Glowsome Ghoulfish Toralei, and her friends Lagoona Blue and Frankie Stein are making waves in a wild underwater wonderland.
Toralei is a were-cat which has transformed into a lion-fish with stunning black and orange fins, that have a glow-in-the-dark effect. This fish-i-fied ghoul will stimulate your child's imagination so that they believe anything can be possible.
Toralei also has a tail with a curl to allow the doll to stand on its own, without a stand.
16. Boo York Gala Ghoulfriends Luna Mothews Doll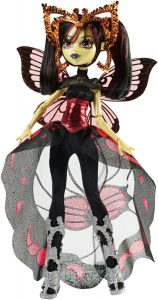 (paid link)
Luna Mothews is the famous model daughter of the Moth Man, coming to Boo York with her friends Mouscedes King and Elle Eedee, to witness the passing of the Crystal Comet.
Wearing a goth-moth style outfit, complete with wings, Luna looks out-of-this-world with her fiercest fashion seen so far. This gala wear looks absolutely awesome. The bodice has a shiny red and sheer capelet effect, over a sheer tapered skirt. Sleek black leggings, fabulously styled boots, and of course the moth wings with their stunning pattern, set the whole look off. The red-orange moth like head wear is the coup de grace.
A signature brush and doll stand come as standard.
17. Freaky Field Trip Clawdeen Wolf Doll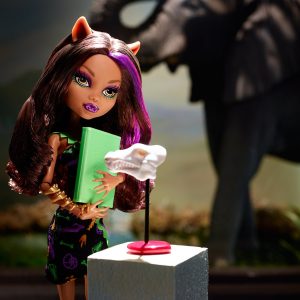 (paid link)
Clawdeen Wolf is set to have a howling good time on her field trip to the Unnatural History Museum. Wearing a sleek black dress with fossil pattern decoration, Clawdeen looks freakishly fashionable as usual. Her wavy hair with purple highlights, and wolf ears peeking out of the top, looks amazing.
Purple booties and a fashionable arm-cuff are fang-tastic accessories. Not only that but she has a freaky skull fossil and a folder to take notes which can be fixed to Clawdeen's hands.
Your child will love roleplaying with Clawdeen as she takes her trip back in time.
18. Haunted Student Spirits Porter Geiss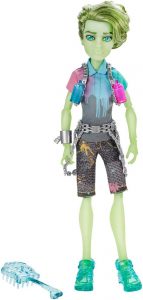 (paid link)
Porter Geiss is a new character that we first saw in the Monster High Haunted movie. He joins the team who banded together in order to save Spectra Vondergeist from a life in chains. A son of a poltergeist, he is every bit as fashionable as his girly ghoul-friends. Porter is dressed in a colorful outfit, with chain details and ghost spray paint cans to make the adventures as colorful as possible. His paint splattered shirt, and brick print gray shorts give him an urban ghostly style which looks boo-tiful.
A translucent chain link display stand gives Porter a hauntingly fabulous floating appearance. The young girls will love Porter. A great help to have a male character when role-playing with friends – in my opinion another contender for the best Monster High doll as there is not enough variety when it comes to male dolls.
19. Monster High Day-To-Night Fashions Frankie Stein Doll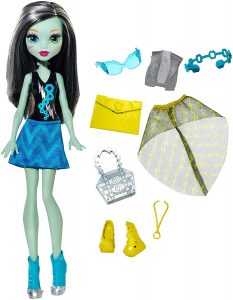 (paid link)
Frankie Stein is always ready to go from day to night and back again in a blink of an eye. Wearing an electrifying outfit, you can switch between her styles using eight different fashion accessories.
Frankie has a sculpted black top with a blue bolt logo. The blue skirt and matching blue boots make this one of the most stylish choices you could pick. Depending on the mood though, you may plump for the yellow foot wear and handbag. The choice is yours. Switch up the attitude at a minutes notice.
The daughter of Frankenstein will look fabulous however you choose to dress her up. With so many accessories to choose from you get a lot of value from this doll – one of my picks for the best new Monster High doll in 2016.
20. New Scaremester Gigi Grant Doll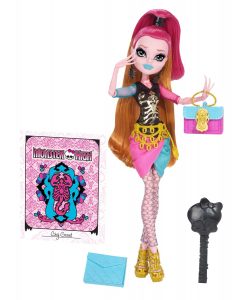 (paid link)
First seen in the Monster High movie 13 Wishes, Gigi Grant is the daughter of the wish-granting Genie. Dolled up in the most colorful outfit possible, she looks absolutely magical. A black top with black accents, and colored sheer arms are paired up with a stylish genie wrap-skirt. Meshed leggings and a golden belt match perfectly. The color scheme complements her bright blue lips and sleek pink hair like you couldn't imagine.
Accessories include a color-block schoolbag with golden cut out booties, and a pair of drop earrings. Everything you need to make Gigi look scary cool for her first day at school.
How Monster High Got So Popular
Garrett Sander, a member of the packaging department, came up with the idea in 2007 and tabled a proposal to his bosses. The response was positive and a team of 20 employees was put together to come up with a plan.
The idea behind Monster High was two-fold. Firstly, Mattel has struggled over the years to find a product line which caters to the 8-12-year old girl demographic. Traditionally, this is one of the trickiest groups to satisfy. Barbie dolls may no longer be suitable, but toys in general still can be, they just need to be geared more towards a teenager's needs. Secondly, Mattel usually creates toys for other companies where no expensive marketing is required. Toys they sell under their own banner are usually watched carefully, before any serious money is spent on marketing. The Monster High franchise was an idea they had complete faith in; they believed in it 100%, and were prepared to push it hard from the very beginning.
When the dolls eventually hit the shelves the factory couldn't keep up with demand. What Mattel hadn't planned for was the amount of interest from outside of their target demographic. Other toy companies soon followed suit, and monster style dolls became a huge market. The best new Monster High dolls were flying off the shelves every year, especially in 2016 and 2017.
Dolls have been used as an educational tool by children for many years. The opportunity to practice social situations is hugely beneficial when growing up; this kind of roleplay is crucial for improving critical thinking skills during those tender years. Parents shouldn't be thinking that playing with dolls is a waste of their child's time.
How We Came Up with a Perfect List of the Best New Monster High Dolls
Choosing the 20 best new Monster High dolls from such a wide selection wasn't easy at all. The number of customer reviews is mind-boggling, but it was important to analyze the feedback from parents to fully understand any issues which they may have had with quality, or possibly regretting their choice once they had already parted with their money. Monster High has dominated the genre since its inception, so you are highly unlikely to be disappointed whichever product you choose. That said, this did make a lot of tough choices for us here at PuzzleDude, but we managed it in the end, and we hope you are happy with our suggestions.