Vainglory is growing ever popular – the quick, strategic, and addicting mobile moba game is taking over the mobile gaming world. The game  has a vibrant online community and a competitive scene as well – if you're serious about it you'll want to have the best tablet for Vainglory. If you want to get better at Vainglory, you can learn tips and tricks, but you can also upgrade the tablet or device that you're playing on. Whether it's Android or iOS you want, I hope by the end of this article to help you make the right choice when it comes to choosing the best device to play Vainglory on.
Best Tablet for Vainglory: Requirements
Let's first start off breaking down what exactly you need from a device to run Vainglory. First off, on an Android device it's recommended that you have:
Dual Core processor or better
1 GB of RAM or more
Android 4.1 or newer
For iOS/Apple it's much more simple – there's not a device on the market that can't run Vainglory so we don't need to break it down. These are very reasonable requirement specs that nearly every device should have. The more important feature to look at is screen size. A lot of people prefer iPhones and Android phones as they have a good aspect ratio for playing the game. That means you can see farther horizontally, instead of vertically which is much less useful in my opinion for playing the game.
Best Android Tablets for Vainglory
In this section we'll go over the best android options when it comes to playing Vainglory on a tablet.
Nvidia Shield K-1 Tablet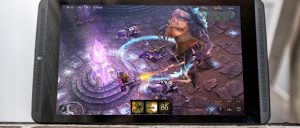 This is essentially the flagship tablet for Vainglory. They game itself is sponsored by Nvidia so this device has been created for mobile gaming with VG in mind. Powered by the quad core Tegra, 192 core Kepler GPU, and sporting a 1080p 8″ display it's hard to go wrong with this device, for a few hundred dollars at that.
This device also comes loaded with a really amazing feature that allows you to stream your Vainglory gameplay super easily! That's why this is my pick for the best tablet for Vainglory overall, and definitely the best Android option.
(paid link)
Google Pixel C
The Google Pixel C is big G's main tablet and it sure does pack a punch. The variation here from the Shield is that the screen size is much larger, and the tablet isn't necessarily created with gaming in mind – but it sure can handle it. It has a beautiful 2560×1800 display, Tegra CPU and dedicated GPU, 64GB SSD, and camera specs to boot.
This device sounds more powerful than the desktop computer I had five years ago! Definitely a powerful tablet, that would be a joy to play Vainglory on. I would recommend this one for the gamer who wants a future-proof device, and also is used to playing on a larger device as this is a 10″ screen.
(paid link)
Samsung Tab A
The Tab A is available in 7, 8, 9.7, and 10.1″ sizes so there's something for every VG gaming style and hand size as well. This is the cheapest Android tablet on this list, but that doesn't mean it doesn't pack a punch. Quadcore 1.2Ghz processor, 16GB SSD, 1.5GB RAM, and 1024×768 display. Certainly nothing to laugh at, for just over a hundred dollars you can be destroying your opponents on this sucker and it'll last you a good while too. I'll pick this one as the best tablet for Vainglory on a budget.
(paid link)
Best Apple Tablets for Vainglory
It wouldn't be a tablet review article without mentioning the iOS giant, Apple, would it? In this section I'll highlight the top tablet options for Vainglory made by Apple.
iPad Mini 4
The newest Mini plays Vainglory like butter, with the crispest display I've ever seen run it. Quadcore graphics makes this a reality – combined with the 7.9″ retina display and 2048×1536 resolution this powerhouse tablet is one of my favorites to play VG on. It also comes in at a really reasonable price of around $300, competing with the Nvidia Shield!
Not much else to say on the Mini 4 other than that you won't be disappointed playing on this device. The performance and visuals are on point for a very very reasonable price.
(paid link)
iPad Air 2
When comparing the Air 2 to the Mini 4, you're really adding extra screen size so that's your deciding factor. Here we're up to 9.7″ display with almost exactly the same specs, cost, and slightly more battery life. If you're tried the Mini 4 and want a bigger tablet then this will be perfect for you.
(paid link)
iPad Pro
Okay so the iPad Pro comes in two sizes –  9.7″ and 12.9″ and this thing is an absolute beast. The 9.7″ is the same size as the iPad Air 2, and the 12.9″ is another monster – I wouldn't particularly recommend the 12.9″ tablet unless you've used one specifically that size already and know you want it. It can be a bit awkward in the hands and heavier – 9.7″ or 10″ is the max size I usually recommend for a Vainglory tablet.
The 9.7″ is the most expensive Apple tablet I'd recommend for VG  coming in at around $500 – but is it worth it? I don't think the specs are THAT much better than the Air 2, and it certainly won't make a difference for Vainglory that's for sure. I'd stick with the Air 2 unless you have other intensive needs for your tablet.
(paid link)
Best Tablet for Vainglory: Conclusion
There are quite a few options out there when it comes to tablets for Vainglory, and Android vs Apple is a common debate point. My recommendation is to get whichever operating system you're comfortable with and have used in the past, and also get the size of tablet that will be most comfortable for you. Don't rush into a purchase – try as many tablets as you can at the Apple store, Google store, your friend's tablets, etc. to get a feel for the size that you want BEFORE you buy.
Other than that, the K-1 Shield is my overall best tablet for Vainglory recommendation, and if you want to go on the apple side I'd go with the Mini 4 if you want a small tablet, or the Air 2 if you want a bit larger one.
(paid link)
Best of luck finding the right tablet for you, and I'll see you on the Fold ;).