If you have a puzzler, youngster, oldster, or anyone in your life who likes to solve a good puzzle or a challenge – then our reviews of the best puzzle gift ideas are just for you. In this list I'll go over the criteria that I think satisfies a good puzzle gift, and give some suggestions for the different type of recipient you might encounter.
What makes the best puzzle gift ideas?
There are a few things that make a puzzle suitable for a gift, let's go over them:
Difficulty – I think age and experience are the main factors for determining what difficulty to get here. Obviously if your recipient is young or new to puzzles then you want to buy a suitable difficulty puzzle. On the opposite end of the spectrum if the puzzler is a bit older or more experienced with puzzles then you'll want to get an appropriately difficult puzzle for them – which is probably the most challenging aspect of gifting puzzles.
Repeatability – Some puzzles can be solved more than once, provide challenges more than once, and some puzzles are basically one-and-done after the first solve. Whenever I buy a puzzle for someone as a gift I always consider this aspect and like to buy the ultimate-repeatable puzzles like the Rubik's cube.
Price – This is always a consideration. Often times when setting gift-buying budgets you want to set a certain amount aside for the gift so this is important to consider.
My puzzle gift recommendations
The Rubik's Cube ($5-15)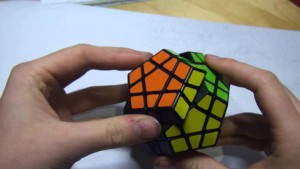 My top recommended puzzle gift – unique solutions every time and great repeatability
I'm a speedcuber at heart so my first recommendation is a 3x3x3 Rubik's cube, or any variation of it as a twisty puzzle like the Megaminx, Pyraminx, 2×2 cube, or 4×4 cube. This puzzle is the ultimate repeatable option that can be scrambled to provide a unique solve every time. Every solve of the cube you do will improve your time, mind, and enhance your puzzling skill which is why I think it's the perfect gift. There are often solutions that come with the puzzle so you go through a few phases of figuring out the first solution, and getting faster and faster while learning new ways to solve it as you play with it more.
Puzzle Books ($1-10)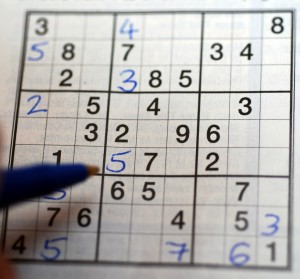 Great budget gift, tons of different puzzles to solve but not much repeatability
In this category there are the likes of crosswords, Sudoku, logic puzzle books, and everything in between. This comes as another one of my options for the best puzzle gifts because of the price, and amount of puzzling value you get. Books and paperbacks in general are cheap and you could be handing over hours on end of solving and hundreds of puzzles for just a few bucks. These are also great specific gifts if you have someone on your list that likes Sudoku or crosswords as they'll appreciate the bulk of puzzles.
Disentanglement Puzzles ($5-15)
Limited solvability, but cool gift that also serves as a decoration in some cases
Disentanglement puzzles like the Hanayama cast puzzles are really great to gift to someone who's not really a big puzzler. These are awesome to figure out for the first time and then show off to friends and family as you watch while they struggle with it. It would also be a really great option for a puzzle collector as these are really uniquely designed and have a decorative aspect for the coffee table, office desk, or kitchen table.
Jigsaw Puzzles ($5-???)
Family puzzle gifts, make a custom one to be extra thoughtful
Here we reach the first option where you can really rack up the bill. Jigsaw puzzles are great as they get the whole family involved, take a while to solve, and you can do them as many times as you want and it'll still provide enjoyment. Do it with your family, and then enjoy it again with friends who haven't done it before. Jigsaw puzzles can get pretty expensive for the massive piece-amount puzzles (which are obviously the best!). Another cool option is to use a puzzle-making service to make a custom puzzle with a picture of your choice like a family picture, family pet picture, or landscape you have a connection with.
Puzzle Apps (<$5)
Send overseas, huge selection to choose from
Since we're in the digital age how can I not include the option of puzzle apps for smartphones and tablets? This gift would be in the form of Google Play credit, App Store credit, or some other form of app credit so your recipient can purchase the app of their liking to use on their phone or tablet. Android and iPhone have a huge selection of logic puzzle apps, Sudoku, Rubik's solving apps, and way more than I've listed here to keep the tech-puzzler busy. Make sure you buy the right gift card for your recipient before sending this one off! Another added bonus is that you can email gift cards so if you can't be in physical contact with the recipient then this is a great option.
A Kendama
Kendama is a really sweet Japanese skill toy, similar to Yo-Yo. It's an intense game where you have a ball attached to a wooden handle by a string in which you fling the ball into the air and land it on various platforms on the wooden handle. I got one last year and it's an absolute blast to practice and improve at. Great for any nerd, puzzle lover, yo-yo lover, or anyone really who you need to get a gift for. We did an extensive review of popular Kendamas here.
Different types of puzzle recipients
In this final segment I'll go over a few types of recipients that you might have on your list, and recommend puzzles for them.
The youngster – For the young developing mind I would recommend a 3×3 Rubik's cube 100%. The amount of solves, enjoyment, and mental development available from solving the Rubik's cube is unparalleled by anything on this list. If they're already familiar with cubes, get them another variation like a 2×2, 4×4, or Pyramind style cube to expand their collection, and more important their mind.
The speedcuber – If your recipient is into Rubik's (or speedcubing) then a gift of a cube they don't have, a new cube that just came out, or a unique-geometry cube would be perfect.
The puzzle solver – If you know who you're gifting to likes Sudoku, crosswords, logic puzzles, or anything of that sort then why not get them what they enjoy? They're making it easy for you so follow suit!
Old or young and inexperienced – Here the important aspect will be getting something simple – provide them with stimulation and the enjoyment of the puzzles but don't make it impossible for them! Most products have age ranges which are fairly accurate.
Family gifts – Here I always recommend the jigsaw puzzle that a group can solve. I also recommend the Rubik's cube again as the whole family can try to learn it, solve it, and compete with each other while they unknowingly (or knowingly?) super-charge their brains.
Hopefully my recommendations along with my top 5 best puzzle gift ideas will be useful for you in choosing the right gifts for your loved ones, friends, and family.
Happy puzzling!